WHO WE ARE
Socks for Change is a truly local registered charity that provides Canadian-made, high-quality, warm wool socks and winter accessories to charitable organizations, schools, and outreach across Niagara. To date, more than 77,000 wool socks and over 100,000 winter accessories have been distributed to our friends and neighbours of the region. 
Socks for Change was founded by Salvatore (Sam) Baio in 2017 after learning about the devastating reality of the poor footcare our homeless population suffers from, in part by, living with constantly cold and wet feet. Socks for Change is run by Sam and a Board of Directors, Brandon Brousseau and Jody Vizza and supported by their continued title partnership with PenFinancial Credit Union and various other key Community Partners, including Bula, Dristex, McCormick Knitting Mills, Avondale, Home Depot, Starbucks and Zehrs.
Socks for Change uses a Social Enterprise Model, working together with the community to increase revenue through sock sales, sponsorships and donations that stay in Niagara and go directly to donating wool socks and warm winter accessories back to Niagara.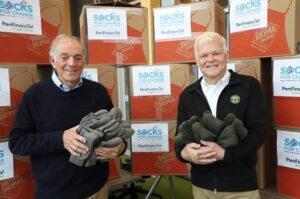 MISSION STATEMENT
To inspire Humanity and Hope, by spreading Warmth.
VISION
Warm feet and warm hands for everyone in Niagara
CORE VALUES
Compassion: A caring approach and concern for the wellbeing of others
Responsiveness: Providing opportunities and service in the areas where it is most needed
Respect: Recognizing and protecting the inherent worth of every person, including oneself.
Organizations and schools requesting socks may do so by completing an application that is posted during the colder seasons. Our application for the 2021/2022 season will be posted this fall. The application for the 2020/2021 season has closed, however, if you have any requests or would like to get in touch with us, please email info@socksforchange.ca
Mission Statement